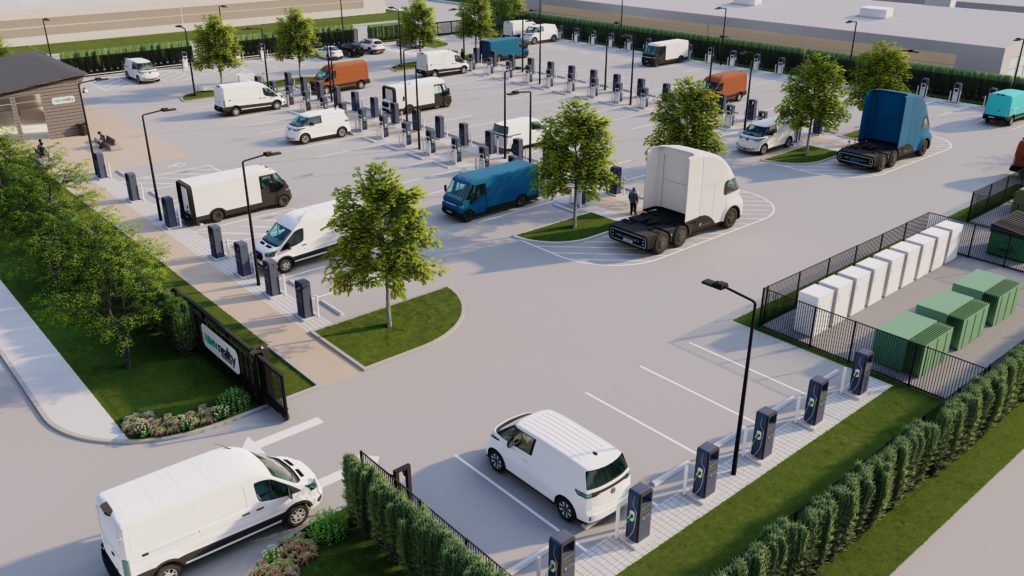 It is no secret that the electrical grid faces significant challenges to accommodate the coming EV boom.
As EV adoption accelerates across the U.S., utilities and grid regulators are racing to keep up. The common theme – more investment in the grid and charging infrastructure is urgently needed for EVs to scale.
This makes sense. The 130-year-old U.S. power grid was never designed as a transportation fuel source. It was never intended to fuel up to 300 million EVs in the next 20 years, let alone 50 million by 2030.
For commercial fleet operators focused on transitioning to EVs, even pilot-scale projects may encounter grid constraints. For medium and heavy-duty (MHD) fleets, or companies contemplating dozens or hundreds of trucks charging at a single location, on-site grid constraints are nearly certain.
Against the backdrop of a constrained grid, fleet operators should consider on-site charging solutions where practical, while leveraging access to grid-ready off-site charging hubs that can serve as the backbone to 21st century e-fuel infrastructure for critical commercial fleets.
Quantifying the Grid Capacity Gap – California Examples
A recent study by the California Public Utilities Commission calculated that 220,000 MHD EVs by 2035 will create more than 8 GW of incremental peak power demand, requiring an estimated $50 billion of grid investment. Once the Advanced Clean Fleets rule is factored in – which contemplates more than twice as many MHD EVs by 2035 – the grid investment is staggering.
Or consider the following, based on analysis using publicly available grid datasets.  Less than 10% of the approximately 700,000 distribution circuit segments in Southern California Edison's greater Los Angeles service territory have 1MW of spare capacity.  Fewer than 2% have 5MW.  By comparison, a fleet of 75 Class 8 tractors running a 180-mile shift out of a site might need up to 9MW of power for daily operations.
Utilities understand the problem. Indeed, they are aligned partners to support electrification of transportation, since they get to sell more power and invest in their grid assets. There are just those sticky questions of feasibility, cost, and timing, all which directly impact a commercial fleet operator's ability to transition to EVs.
Bringing Fleets to the Grid
Against a constrained grid, fleet operators increasingly recognize that a mix of on-site and off-site charging solutions will be required.
A logical place to start is assessing the viability of on-site solutions – determining which of your locations have sufficient power. Power is a scarce resource allocated by the utility in order of request. What is available today, may not be available tomorrow. Fleets also need to consider space constraints, leasehold restrictions and budgetary impact from significant up-front capital investment, often within strict operating cost parameters shaped over years of route and schedule optimization.
Off-site fleet charging hubs present an alternative solution for fleets who encounter one or more of these constraints. These grid-ready properties with significant confirmed and secured power capacity, near where commercial fleets operate, offer parking and charging services to multiple fleets, as well as reserved along-route charging.
Benefits to Fleets, Utilities and Electricity Costs
For fleets, the benefits of off-site multi-fleet charging hubs are compelling – a turn-key charging service with no upfront investment and the certainty of reserved power capacity to manage fleet operations. Without grid investment required, charging hubs are buildable sooner. And with multiple fleets utilizing charging infrastructure, costs are spread across more customers.
Utilities also benefit. With grid upgrades often taking two or more years to complete just for a single customers' needs – and sometimes five or more years if substation work is required – utilities and regulators are keen to use and maximize their grid as it exists today, while responsibly and cost-effectively building for the future.
Electricity rates also stand to be positively impacted. Grid upgrade costs are added to electricity bills and avoiding them by utilizing existing infrastructure keeps rates down for everyone.
Putting it Together
As fleet operators transition to EVs, it is critical to understand up front where your facilities have access to sufficient electric fuel. By using objective data analysis of routes, fleet duty-cycles, and locations that may support on-site charging, as well as mapping fleet operations and use parameters that may benefit from grid-ready, off-site charging solutions, forward-thinking fleet managers will be able to scale their EV fleets while the power grid adapts to its new role as a clean 21st century transportation fuel source.
To read the original article written by Fleet Forward, visit this link.